Selling my stainless steel Vacheron Constantin Overseas 3-hander on bracelet in NM condition with full AD kit (boxes and papers). This Overseas dates from 2013 has a lovely and now-discontinued textured silvery-white dial, 150m of water resistence, is 42mm wide and 9.7mm thick. For a modern sports watch it wears quite thin and light without lacking presence.
This Overseas is the 2nd generation featuring the VC 1126 movement, based on Jaeger-LeCoultre's 889 calibre. The bracelet is a wonder to look at, famously incorporating the Maltese Cross logo.
This article provides a great overview of the history of the Overseas family:
https://monochrome-watches.com/histo...as-1970s-icon/
The movement is functioning well (factory serviced in 2015) and the watch is complete with boxes and paperwork, plus VC's USB drive containing the instructions and other useful info.
Condition

Movement running well, dial and hands are mint. Case and bracelet look great but have minor scratches and swirlies.
Why I'm Selling
I'm making room for some incoming watches, and as much as I love this watch it is next on the chopping block. Judging by my IG feed I tend to wear it for about one day every 2-3 weeks or so.
Issues
• There are minor scratches and swirlies typical of use
Positives

• Movement running well and serviced in 2015
• All functions (winding, setting, date change) as expected
• Discontinued textured dial
• Full kit, including all links on the Overseas bracelet
Provenance
I acquired this watch in a trade from a fellow collector in January 2016. I wore it daily for about a month and a half after acquiring it and have worn it 1-2x per month since then. Dates to 2013 and serviced by VC while in the possession of a prior owner in 2015.
Comes with
Outer Box, inner box, polishing cloth, USB drive with instructions, service warranty papers, all bracelet links. A complete set.
Photos
Photos were taken by me on April 7, 2017. Since then it has been unworn and kept in its box ready to ship while I decided whether or not to sell. Additional photos (including boxes and paperwork) available upon request.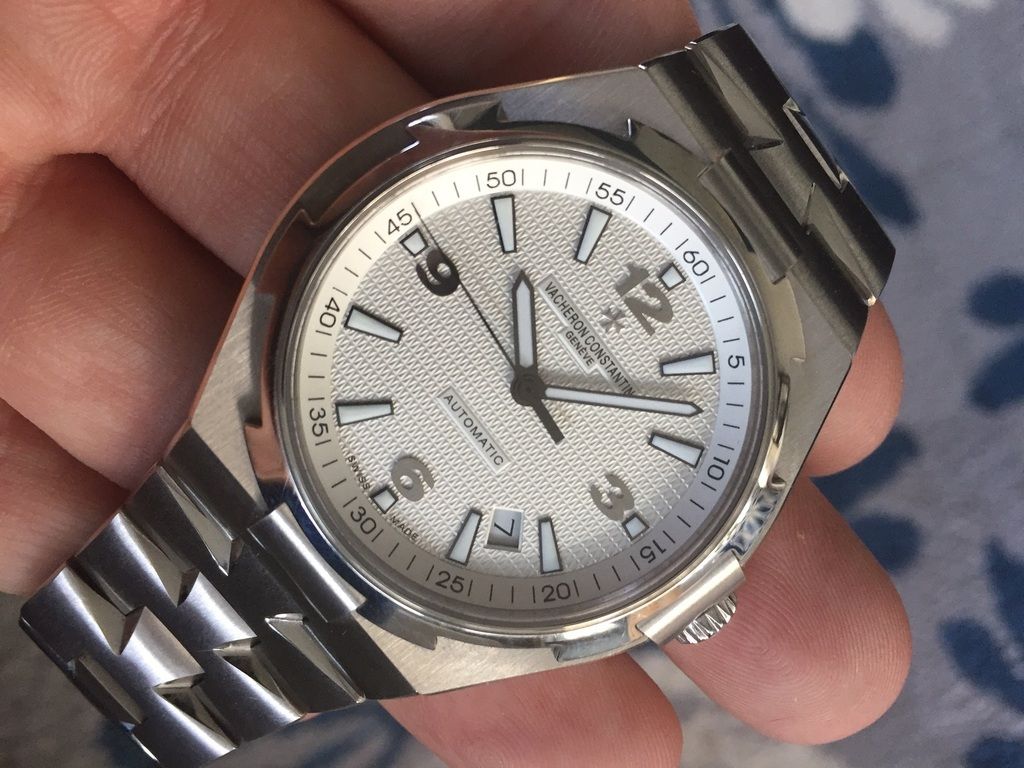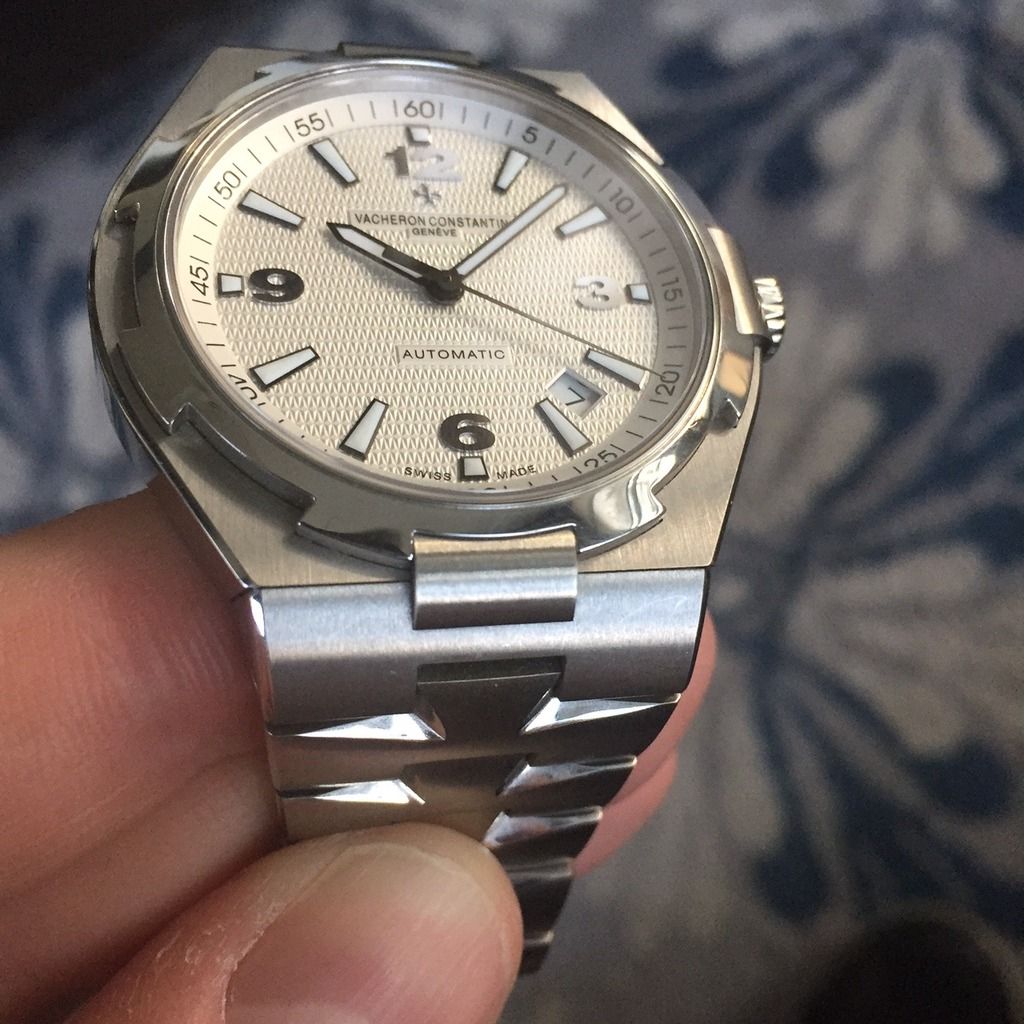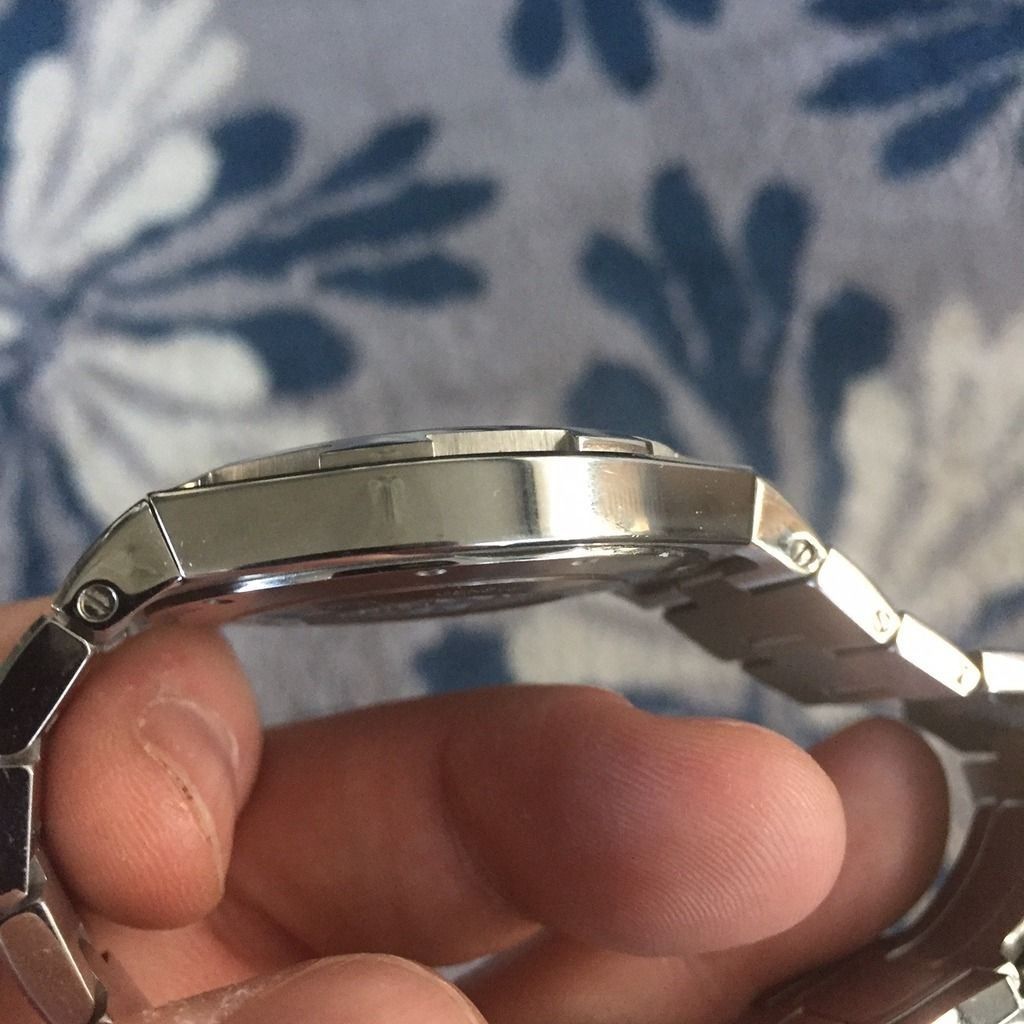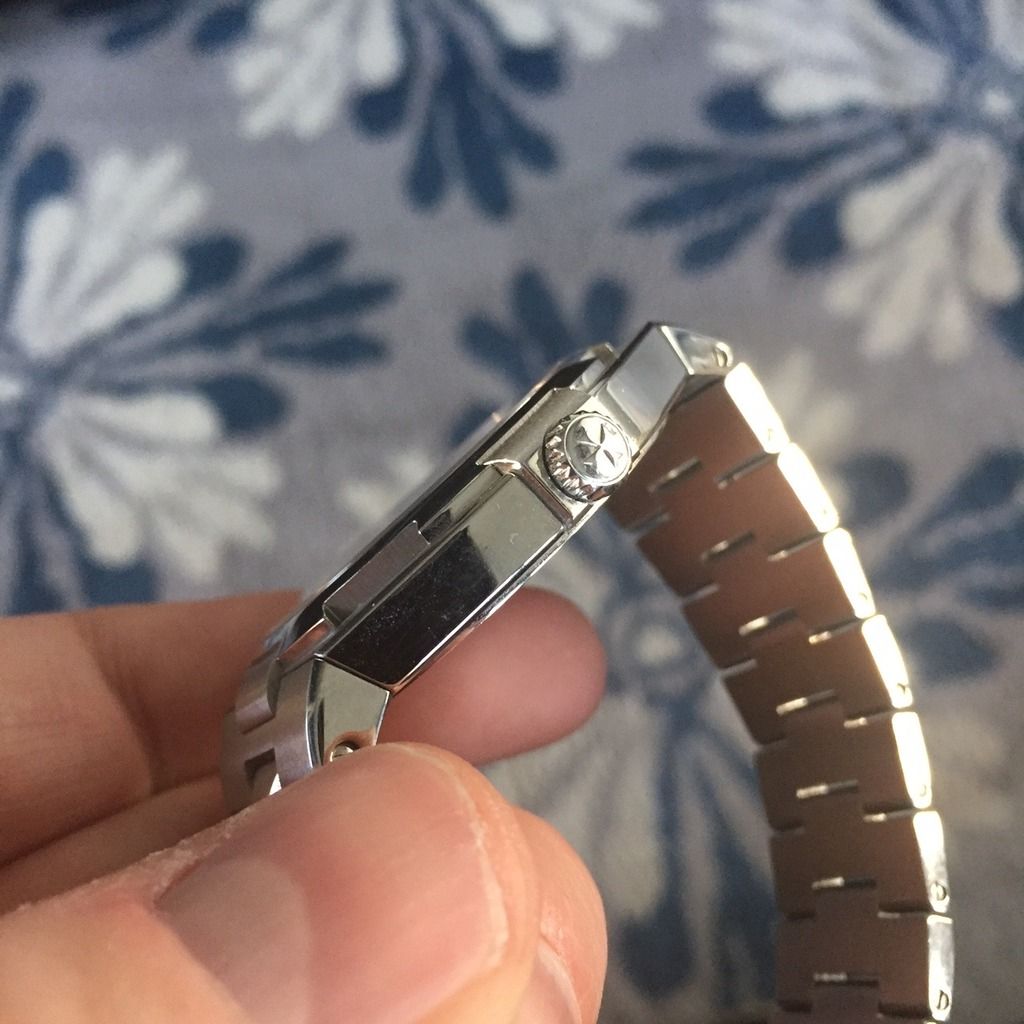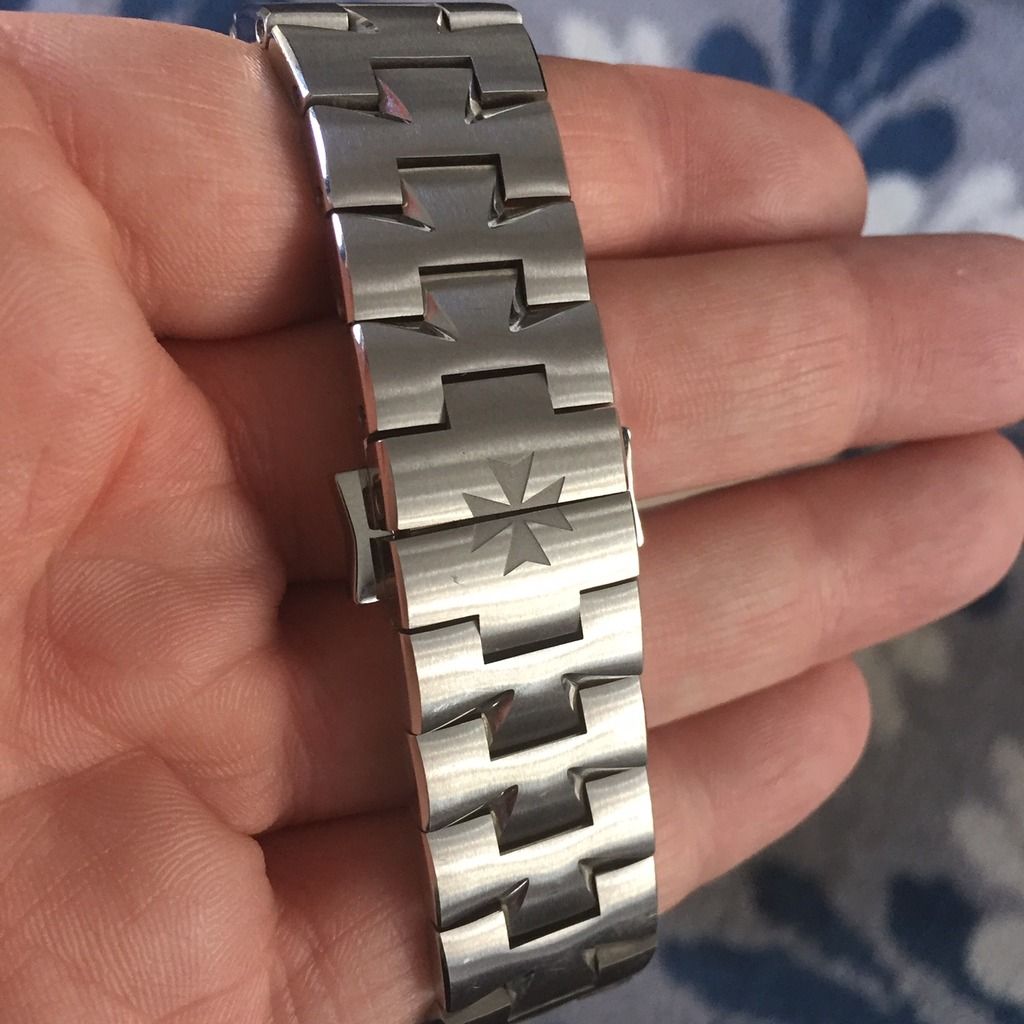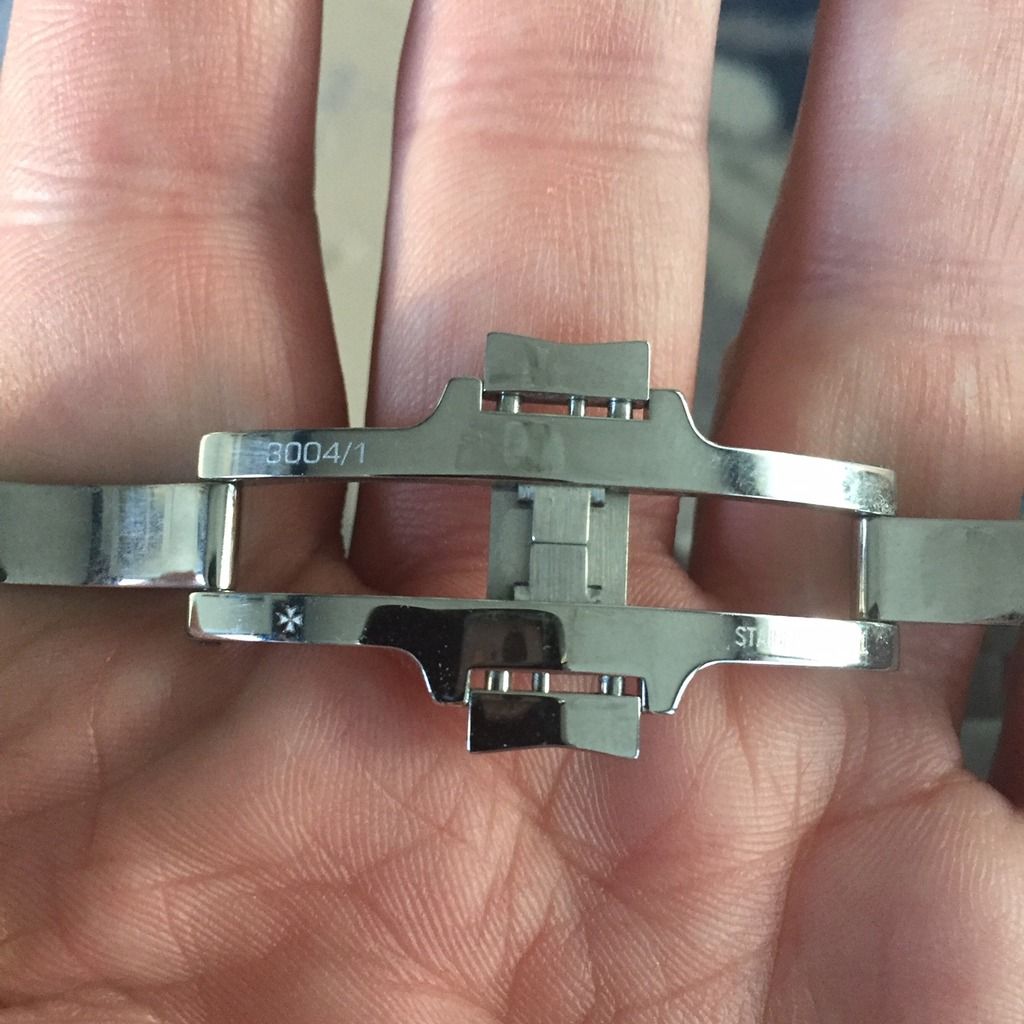 Price
$7,450
US. Please compare to other 47040's on WatchRecon or Chrono24, I believe that mine is the most affordable one on a bracelet currently available. Prior to discontinuation MSRP was $14,000 US. US shipping via priority mail included. NO TRADES PLEASE. Please contact me via pm with questions or offers.
Payment
Wire, cash (watch and I are in the Chicago area), Paypal if you have references.
Buyer
I prefer selling domestically to keep things simple. I will sell internationally on a case by case basis (in other words, buyer needs solid recent references and must accept full customs declaration and cover extra shipping cost). Buyer must have solid references.
No returns unless watch is grossly misrepresented. Selling as-is with no warranty.
References
I'm an individual collector, not a dealer, and have no affiliation with Vacheron Constantin. I have been active on watch forums for several years and have numerous references as a buyer, trader, and seller. I have perfect eBay feedback, where I have also bought and sold several watches.
Feedback as a buyer:
https://omegaforums.net/threads/grea...-andy-k.55854/
http://forums.watchuseek.com/f63/per...l#post38279378
http://www.rolexforums.com/showthread.php?t=344339
http://www.rolexforums.com/showthrea...ighlight=AndyK
http://www.rolexforums.com/showthrea...ighlight=AndyK
http://www.rolexforums.com/showthrea...ighlight=AndyK
http://forums.watchuseek.com/f63/and...er-872551.html
Feedback as a seller:
http://forums.watchuseek.com/f63/and...r-2967402.html
http://forums.watchuseek.com/f63/and...l#post16031586
https://omegaforums.net/threads/deal-with-andy-k.23626/
http://www.rolexforums.com/showthrea...ghlight=Andy+K
http://www.rolexforums.com/showthrea...ghlight=Andy+K
http://forums.watchuseek.com/f63/dea...k-1751962.html
http://forums.watchuseek.com/f63/and...te-978002.html
http://forums.watchuseek.com/f63/and...er-964121.html
http://forums.watchuseek.com/f63/and...er-962895.html
http://forums.watchuseek.com/f63/and...er-961995.html
http://forums.watchuseek.com/f63/and...er-684909.html
http://forums.watchuseek.com/f63/and...at-563468.html
http://forums.watchnet.com/index.php...169#msg_498689
Feedback as a trader:
http://www.rolexforums.com/showthread.php?t=361168
http://forums.watchuseek.com/f63/and...al-566270.html