Wrist shots can be deceptive. In many cases a picture is taken as a close up using wide angle setting (28 mm equivalent or so). This makes the watch look bigger on the wrist than it really is. 50 mm or more on the lens gives a better picture of real size, but it is difficult to take such a picture, unless someone is doing it for you, since you might need to have the camera far from the wrist.
When it comes to wrist size, and percieved size, I believe it very much depends on the form of the wrist, as well as the total image of you as a person.
I hesitated for quite a while before I started to wear 40 mm watches. (I did for a while in my early twenties, but later on they started to feel big.) The issue for me wearing too large watches is that they make me feel like a boy wearing his fathers watch... and being a father myself, and in my forties ... well... I prefer feeling like an adult. But, as fashion now has it with larger and larger watches I am more comfortable wearing the sports models in the Rolex line up. If this continues I migth seriously consider the SDDS - eventhough it is WAY too large for me currently (not to mention the fact that I am not a diver...)
Enclosed are wrist shots of three of my current favourites. The AK is a beautiful dress watch: Understated, new updated bracelet and case, extremely comfortable, and do not "shout" Rolex. It is great with suit or shirt/long sleeves, but if not - I feel that it looks small on me... The Explorer is my all time favourite, but it is not as elegant as the AK (my feelings...), but I tend to carry it in all types of situations. The Explorer II is with it's white dial and GMT function the travel watch for me. It is also the watch I did NOT buy when I bought the Explorer, since I then (in the mid 90's) felt that it was too big... A couple of years later I did not find 40 mm to be too big...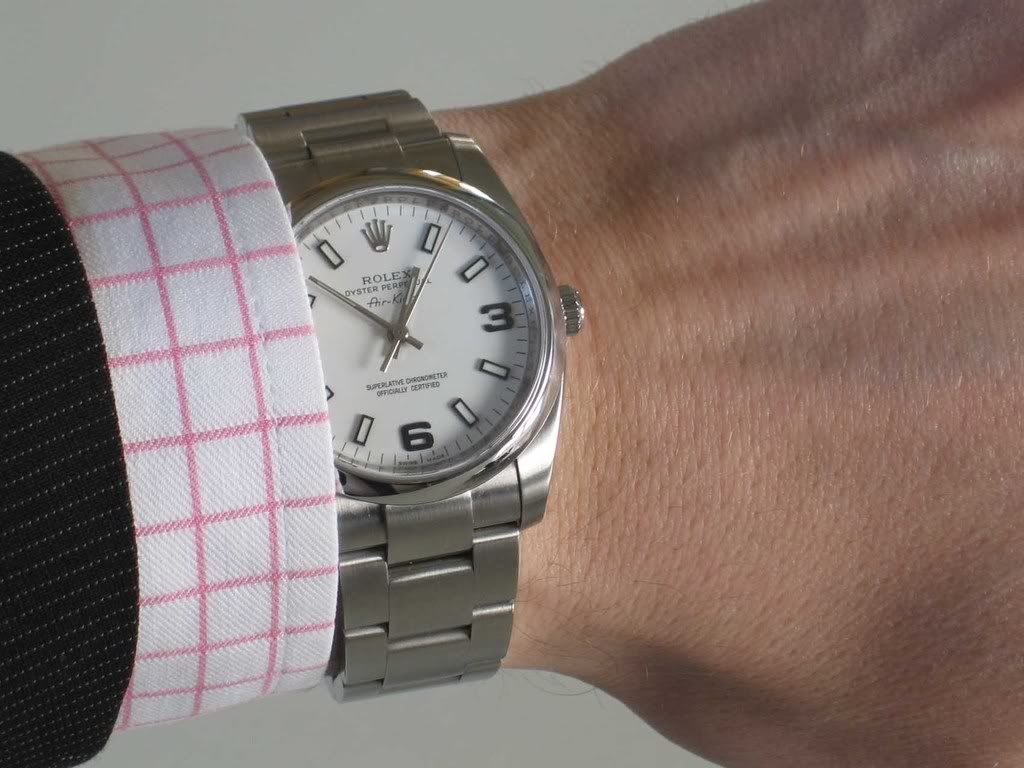 All of those are in the range from 34 to 40 mm. My wrist size is somewhere between 6.5 and 6.75 inches. I am a very average person in length and weight.
Other favourites, that I consider nice in size for me, are: Daytona, Milgauss (a bit thick though), DD, and of course the DJ.
I hope that this is food for thought for those having thoughts on wrist size.
Best,
A